Hacker Guardian arbitrary host scanning - Overview
Comodo Hacker Guardian provides internet security scanning with a front page that quotes:
"It provides for daily audits to run on one IP address and an unspoofable TrustLogo you can place on your web site indicating you are safe from hackers."
They offer a free scan so visitors can test their own server. The FAQ states:
"HackerGuardian Free Scan - available to website owners, network operators and home users free of charge. Registering for the service enables users to run a HackerGuardian vulnerability audit on a single IP to identify potential security threats. The Free service is limited to 3 scans per license on a single IP and is non user customizable."
Unfortunately you can scan any host you choose and register for more than 3 scans, see below for details.
Hacker Guardian arbitrary host scanning - Timeline
| | |
| --- | --- |
| Date found | 06/03/2006 |
| Date reported to vendor | 16/03/2006 |
| Date reported to public | 17/03/2006 |
| Date vendor responded | 27/03/2006 |
| Date fixed | 27/03/2006 |
| Credit | MacGyveR |
Hacker Guardian arbitrary host scanning - Screenshots
The screen below shows that you can signup for more than 3 free scans: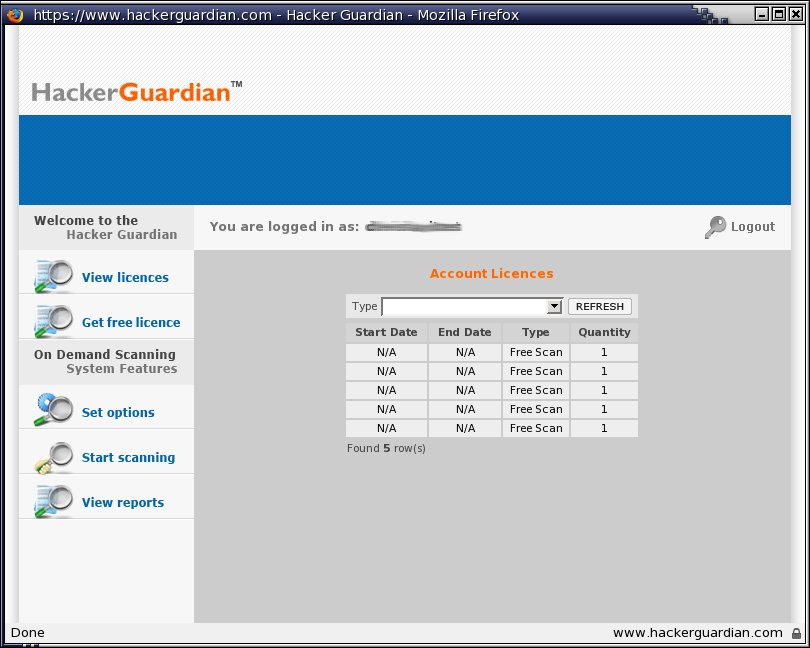 This is the screen you see when you start scanning, your own IP address is in a "read only" text box:
Using Firefox's Web Developer extension, you can change the IP address in the text box to anything you want: